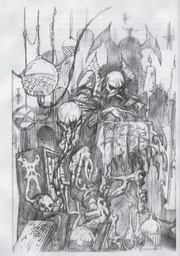 Themedes
of Mur is a sage dwelling on the continent of Septimus in the world of
Thyrion
.
He is the author of the Chronicle of Deeds, which describes the story of the Serpent Riders, the subjugation of Thyrion by Eidolon, and the various creatures and artifacts encountered in the world.
More importantly, Themedes tells the stories of the four heroes who seek to overthrow Eidolon - the Assassin, the Crusader, the Necromancer and the Paladin. He also describes their unique abilities and weapons.
After the fall of Eidolon, Themedes extends the Chronicle of Deeds, adding information about the coming of Praevus, the emergence of the land of Tulku and the story of the Demoness.