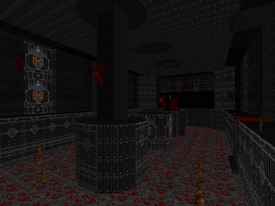 The Stagnant Demesne
is the fifth and final episode of
Heretic
, and part of the
Shadow of the Serpent Riders
expansion.
Overview
The episode takes place within the dark fortress where D'Sparil was born. It was the Serpent Rider's original lair and base of operations before the construction of the crystal domes on Parthoris. The fortress is most likely located on one of the Outer Worlds.
The episode's theme is very similar to the style of The Dome of D'Sparil, but it also incorporates some of the natural elements of Hell's Maw.
D'Sparil's personal Maulotaur bodyguards (3-8, depending on the skill level) await Corvus at the very heart of the fortress. After they are defeated, a cluster of portals open up that presumably take him to other Outer Worlds before the events of Heretic II.
Levels
Notes & Trivia
Unlike the original 3 episodes, this episode does not have a world map.
The music tracks for this episode are the same as Episode 2's.
External Links
---
Community content is available under
CC-BY-SA
unless otherwise noted.