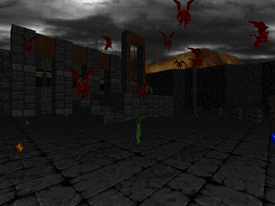 The Ossuary
is the fourth episode of
Heretic
, and part of the
Shadow of the Serpent Riders
expansion.
Overview
Having defeated D'Sparil in his Underwater Lair, Corvus finds himself within the shattered remnants of a world conquered by the Serpent Rider a long time ago (most likely one of the Outer Worlds).
The episode's theme is that of a broken and corrupted world, littered with ruins and old corpses. Its overall style is a mixture of the level styles from City of the Damned and Hell's Maw. The only way out of this cursed realm is through a portal at the heart of the ravaged world, which is protected by fearsome guardians and leads to The Stagnant Demesne.
The portal is guarded by a horde of Iron Liches (5-9, depending on the skill level), the bosses of this episode.
Levels
Notes & Trivia
Unlike the original 3 episodes, this episode does not have a world map.
The music tracks for this episode are the same as Episode 1's, except for E4M1 and E4M6 being switched.
External Links
---
Community content is available under
CC-BY-SA
unless otherwise noted.