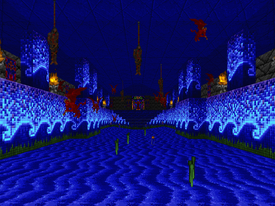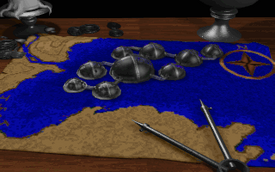 The Dome of D'Sparil
is the third episode of
Heretic
. This originally was its final until
Shadow of the Serpent Riders
was released.
Overview
The action takes place within the Serpent Rider's lair on the bottom of the ocean, protected under huge crystal domes. This is D'Sparils main seat of power in the conquered world of Parthoris.
Most of the levels consist of castles or temples with a richly decorated opulent style, featuring many tiled walls and stained glass windows. Water is a common theme throughout the episode, appearing as pools, flooded natural caverns and decorative designs.
The episode's final battle is against D'Sparil himself, who rides his fearsome Chaos Serpent. His inner sanctum contains a large dimensional portal, which takes Corvus to the corrupted realm known as The Ossuary.
Levels
External Links
---
Community content is available under
CC-BY-SA
unless otherwise noted.